What are scientists saying about the science budget? The Hindu asked five.
9 min read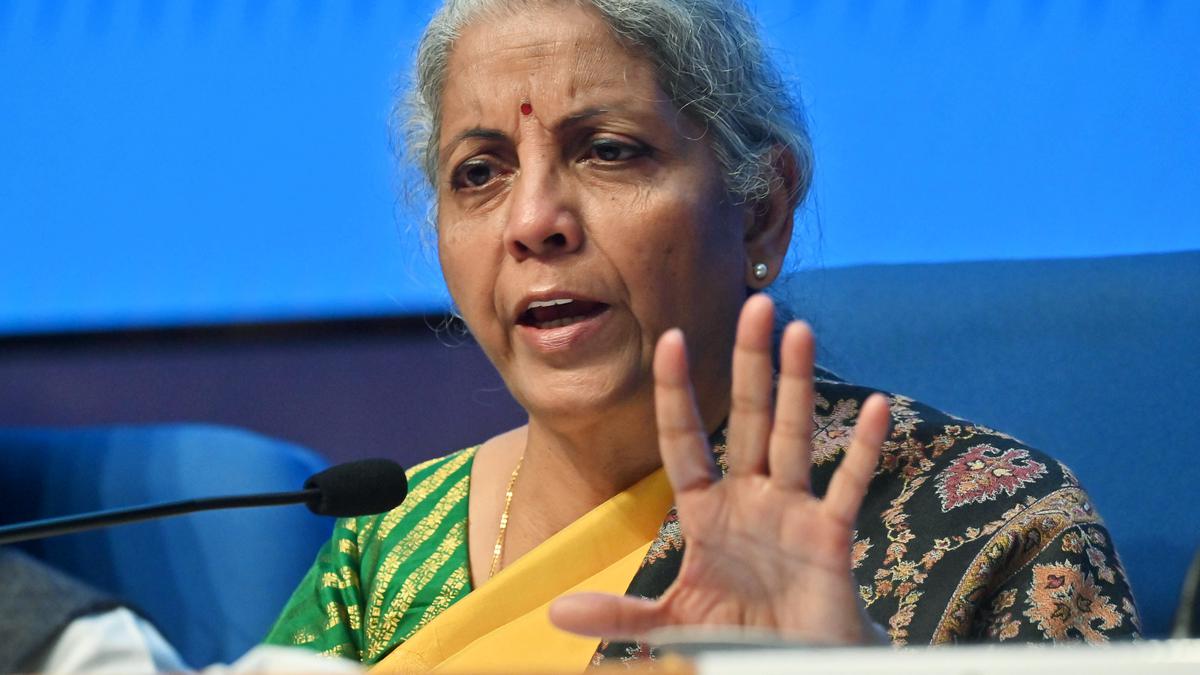 Budgets offer a mixed bag of goodies – so it is with science that has seen both promising and indifferent budgets over the years. As they look at the half-full (or half-empty) tumbler, some see encouraging initiatives, while others crunch the numbers and reveal a disheartening percentage of the GDP allocated for science.
Some top scientists from diverse disciplines shared their views with The Hindu on their takeaways from the 2023-2024 Union Budget, in terms of funding, initiatives, its relevance to their institutions' areas of work, and what more is left to be done. The basic numbers are available to recap here.
Dr N. Kalaiselvi, Director-General, Council of Scientific and Industrial Research (CSIR)
The first budget of Amrit Kaal is a visionary one. The budget is very favourable to the science and technology ecosystem of the country. It has focused on the crucial areas of energy security, food and nutrition security, health security, environment security, etc. CSIR has an active presence in all these areas.
CSIR plays a pivotal role in green hydrogen R&D under the National Hydrogen Mission, for which Rs. 19,700 crore has been allocated. The budget also takes into account battery energy storage. It provides a boost to research in the area of energy technologies, especially renewables and green energy.
The Hon'ble Finance Minister has assured support to India of becoming a 'Global Millets Hub'. The announcement coming in the International Year of Millets augurs well not just for India but for the entire world.  It is also heartening to note that Rs 2,200 crore has been budgeted for high-value horticulture.
CSIR has a Sickle Cell Anaemia Mission, and the announcement today of a National Mission to eliminate Sickle Cell Anaemia by 2047 is visionary. Also the application of artificial intelligence [AI] in various sectors, including healthcare applications and focus on futuristic medical devices and technologies, augur well for taking up research and development in key health areas.
CSIR has an ongoing AI programme that will augment the application of AI in several areas including health through Mission Mode Projects in the coming financial year. 
It is heartening to note that a new programme to promote research and innovation in pharmaceuticals will be taken up through centres of excellence. The budget announcement to encourage industry to invest in research and development in specific priority areas is laudable.
CSIR also has a Waste-to-Wealth Mission that addresses environmental issues. Several important announcements have been made, on the environment front. Be it the preservation of mangroves and wetlands, promoting natural farming, biomass, bio-manure and biogas, scientific management of dry and wet waste, the 2023 Union Budget, through programmes such as PM-PRANAM, MISHTI and Amrit Darohar, is a truly green budget.
Dr C.P. Rajendran, National Institute for Advanced Studies
India's 2023-2024 Union Budget unveiled today indicates an allocation of Rs 2,000 crore more than what the Ministry of Science and Technology received in the previous budget. But considering the growth in expenditure on account of inflation, etc., this cannot be termed as a big jump.
Although I would say this as a welcome step, India's science expenditure still hovers around 0.7% of GDP – way below the other developed and developing countries, including China.  The increased fund infusion of Rs 2,000 crore is probably required to meet the allocation shown against the National Science Foundation (NSF), a new funding scheme shown under the Department of Science and Technology.
Although the idea of the NSF was initially stated in the 2020 National Education Policy, it is only now that the government has made the actual fund allocation for this new entity. This again is a welcome step for developing a culture of research in the country, purportedly for undertaking major initiatives in the state universities and public institutions, but it is not clear how this is going to be different in its financial management from the existing funding agencies, which are stifled by rigid bureaucracy.
What are the guarantees that this agency will remain academically independent to help basic research to flourish? Another issue is how this budgetary allocation will be translated from mere numbers to actual allocation at the ground level. There have been cases where grandiose schemes like 'Scheme for Transformational and Advanced Research In Science' (STARS) are announced, but individual researchers many times are frustrated because they don't receive the required amount in time.
Such bungling is also apparent in the recently announced cost-cutting measures in schemes to support women researchers. It is widely felt that it is often less difficult to have a project approved than to have funds periodically released. We need more infusion of funds and, equally importantly, India must choose to break the bureaucratic barriers that exist in government departments.
Dr Rajesh Gokhale, Secretary, Department of Biotechnology (DBT)
The positive takeaway from the budget is that the vision of new modern India is very clear and this should promote research and innovation in all scientific areas. The guiding principle of "Green Growth" in this emerging innovation ecosystem mandates the biotechnology sector to play a major role in finding sustainable and recyclable solutions in almost all domains, including health, agriculture, and clean energy. The Department of Biotechnology is bringing out a BioE3 ( Biotechnology for Economy, Environment and Employment) Policy for green, clean and prosperous India that will be enabled through "high performance biomanufacturing".
The Department will take forward the successes of the COVID-19 vaccine mission by developing new safe and effective vaccines for existing and emerging diseases. The focus would be on taking forward genomics-based programmes and integrated solutions for both health and non-health sectors.
The Department will continue the development of sustainable aviation fuels, zero waste biorefinery, biobased alternatives to single use plastics and synthetic biology tools for carbon capture and utilisation for a clean environment. In the animal sector, renewed focus would be given to the 'One Health' consortium established by the<> DBT to make us ready for future pandemics. 
The Indian Tuberculosis Genomic Surveillance consortium would be operationalised for prediction of drug resistance & strain lineage to support the Government of India's goal of 'TB Mukt Bharat'. For mainstreaming of millets, a programme on genomic characterisation of minor millets is being developed. Agri-based gene editing platform would be established for fast tracking of leads available in Indian institutions.
A strong industry-academic partnership should be in place to cater to the growing needs of bio-based industries. Linkages between research and commercialisation should be strengthened, through enhanced industry participation and feedback across all technology readiness levels. Private sector should enhance its investment in R&D and Venture capitalists encouraged to fund high risk Startup science success stories. Quality assurance of Indian products and services should be augmented as per international standards. 
The department has subsumed its 14 autonomous institutions to create one Apex autonomous body, Biotechnology Research and Innovation Council (BRIC), towards achieving "minimum government, maximum governance". This is expected to transform the biotech research and innovation ecosystem and science governance, maximising impact.
On the other hand, the Biological Research Regulatory Approval Portal (BioRRAP) was launched by the DBT as a whole-of-government approach in tune with our Hon'ble Prime Minister's vision to strengthen inter-departmental synergies in functioning of agencies regulating various aspects of biological research. The portal serves as a gateway and helps researchers to follow approval of their applications for regulatory clearances.
Dr Soumitro Banerjee, Professor, Department of Physical Sciences, Indian Institute of Science Education and Research, Kolkata
What does the scientific community expect to see in a Union Budget? The current level of expenditure in S&T is hopelessly inadequate if India is to compete at the international level in knowledge generation. So the scientific community expects to see a significant increase in the outlay for research. But out of a total budget of Rs. 45,03,097 crore, only Rs. 16,361 crore – i.e. 0.36% of the central budget – has been allocated to the Ministry of Science & Technology.
Out of that amount, the Department of Science & Technology (DST) has been allocated Rs 7,931.05 crore; the Department of Biotechnology (DBT) Rs 2,683.86 crore; and the Department of Scientific & Industrial Research (DSIR) Rs 5,746.51 crore. These are the agencies that fund scientific research, so appropriate funding of these agencies is crucial. The corresponding figures last year were: Rs 6,000 crore, Rs 2,581 crore, and Rs 5,636 crore, respectively. Considering the inflation of 5.13%, the outlay in DBT and DSIR has actually reduced: these had to be Rs 2,713 crore and Rs 5,925 crore, respectively, to maintain the same level of support.
More than 90% of the funds of these organisations is spent on salaries, leaving very little for conducting scientific research.
Other ministries also support scientific research, including the Department of Atomic Energy (DAE, allocation Rs 25,078 crore), Department of Space (allocation Rs 12,543 crore), etc. But only a small fraction of their budget is spent on R&D. For example, in the DAE, a major chunk of the fund is allocated to projects like building new reactors, enhancing and augmenting facilities, etc., and a much smaller amount goes into DAE-funded institutions like the Tata Institute of Fundamental Research, the Saha Institute of Nuclear Physics, the National Institute of Science Education and Research, and the Harish Chandra Research Institute. The allocation to the Dept. of Space has actually been reduced from Rs 13,700 crore last year to Rs 12,543.9 crore this year.
The scientific manpower in any country comes from the education sector, and a robust health of education is crucial for its scientific prowess. The National Education Policy (NEP) 2020 document says (Article 26.1), "Unfortunately, public expenditure on education in India has not come close to the recommended level of 6% of GDP, as envisaged by the 1968 Policy, reiterated in the Policy of 1986, and which was further reaffirmed in the 1992 review of the Policy." It goes on to commit that "the Centre and the States will work together to increase the public investment in Education sector to reach 6% of GDP at the earliest."
Education being in the concurrent list, the country's expenditure on education cannot be estimated from the Union budget alone. But it is generally believed that the Union government's commitment has to be at least 10% of the Union Budget in order for the total spending on education to reach a level of 6% of the country's GDP.
The scientific community, from platforms like the Breakthrough Science Society and the India March for Science, have been demanding this for many years. Ever since the introduction of the 2020 NEP, successive budgets have not reflected the necessary financial commitment. This year also, the outlay on education is Rs 1,12,899 crore, which is only 2.5% of the Union Budget.
Tapasya Srivastava, Professor, Department of Genetics, University of Delhi South Campus
A total outlay of Rs 16361.42 crore has been allocated to the Ministry of Science & Technology and Rs 2,980 crore to the Department of Health Research, an increase of 15% and a decrease of 7%, respectively, from last year.
As always, all well-thought-out plans need even better implementation, so the real benefit of the increased allocation in science and technology will lie in how the funds are allocated and the vision implemented.
Moving hand in hand with the agritech push, millet research will have tremendous nutritional benefits in the long run.
Opening up select Indian Council of Medical Research (ICMR) labs for research to both public and private sector is much required. The push for biomedical devices education and research, pharmaceutical research, as well as the focus on interdisciplinary research in AI are much needed steps. Together, these can transform health research in India, if implemented cohesively.
For education, the Hon'ble Finance Minister in her speech gave two important indicators that I feel will be game changers if implemented well: one, the stress laid on reading books and the digital library; and two, the emphasis on teacher training.
In a fast-paced world focused on information capture from the internet, moving back to a library-based reading for students will have far-reaching learning benefits.
For teacher training, the innovative pedagogy that has found a mention will require going beyond just being a buzzword. Identifying trainers for teachers is key to successful implementation.