Saskatoon council environment committee discusses green cart situation
5 min read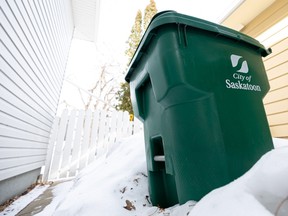 The city is in a short-term deal with Loraas for composting services amid a disputed declaration of a default by a previously contracted firm.
Article content
Saskatoon city council's environment, utilities and corporate services committee called for city staff to make clear the engagement strategy for residents living around a prospective composting facility for waste from the green cart organics program launched this spring.
"Nobody wants to be here, at all," Mayor Charlie Clark said in the course of Wednesday's discussion about a report on short-term plans for the green cart waste.
Article content
The yard clippings and kitchen scraps collected in Saskatoon's green cart program were originally expected to go to a facility south of Saskatoon owned by Green Prairie Environmental. That plan fell through shortly before the May program launch, when the Rural Municipality of Corman Park rejected an application by Green Prairie to add a composting area to its existing landfill operation.
The city and Green Prairie are in an ongoing dispute over the processing contract, with the city recently declaring Green Prairie in default and announcing a short-term contract to haul green cart waste to a Loraas composting facility.
City staff have also announced plans to consider processing some material at the city's own West Compost Depot and at the Saskatoon landfill.
These plans drew concern from Barb Biddle, president of the Montgomery Place Community Association.
Biddle on Wednesday questioned how "temporary" an arrangement to have waste delivered to the West Compost Depot might be, and raised concerns about odour and potential health impacts.
During questions, the committee learned the West Depot has accepted at least some food waste since 2017, from the subscription-based green cart service that preceded the current program. They further heard residents can report odour complaints to the city, and that depot staff actively monitor and address odours.
Article content
City staff also noted the West Depot is a temporary location that is slated to be relocated to make way for further development of the Blairmore neighbourhood.
Asked why the West Depot can take items not recommended for backyard composters, a city official said piles at the depot have sufficient mass to break down material that household-scale composters can not.
Coun. Troy Davies, citing inquiries from residents in his ward, asked why the city entered into a contract with Green Prairie when the company didn't yet have a processing facility built.
City solicitor Cindy Yelland said that allowing bids from companies that would need to construct new facilities was a way to increase competition for the contract. She added that a three-year timeline from awarding the contract in 2020 to the green cart program launch in 2023 was viewed as ample time to get something built.
A report on long-term options is expected in early 2024. Council will be expected to choose between having the city build a composting facility it could then either run itself or farm out to a third-party manager, or putting out a new request for proposals for a third party to construct and operate a facility.
Article content
Coun. Hilary Gough raised concerns around the prospects for disruption to residents near a prospective long-term composting site.
As committee chair, the rules kept Gough from advancing her own motions.
Coun. Sarina Gersher ultimately took up a pair of motions using language Gough suggested. These called for city staff to include details of the engagement plan for residents near a long-term composting facility, and to report on the city's requirements for minimum space between a composting facility and residential areas.
Both passed unanimously.
Bookmark our website and support our journalism: Don't miss the news you need to know — add The StarPhoenix.com and LeaderPost.com to your bookmarks and sign up for our newsletters here.
You can also support our journalism by becoming a digital subscriber: For just $4.75 a month, you can get unlimited online access to Saskatoon StarPhoenix, Regina Leader-Post, Financial Post, National Post and the entire Postmedia network as well as an electronic replica of the print edition to view on any device, share and comment on. Support us by subscribing today: Saskatoon StarPhoenix | Regina Leader-Post