Environment Canada warns of poor air as smog slams Ottawa, Gatineau
5 min read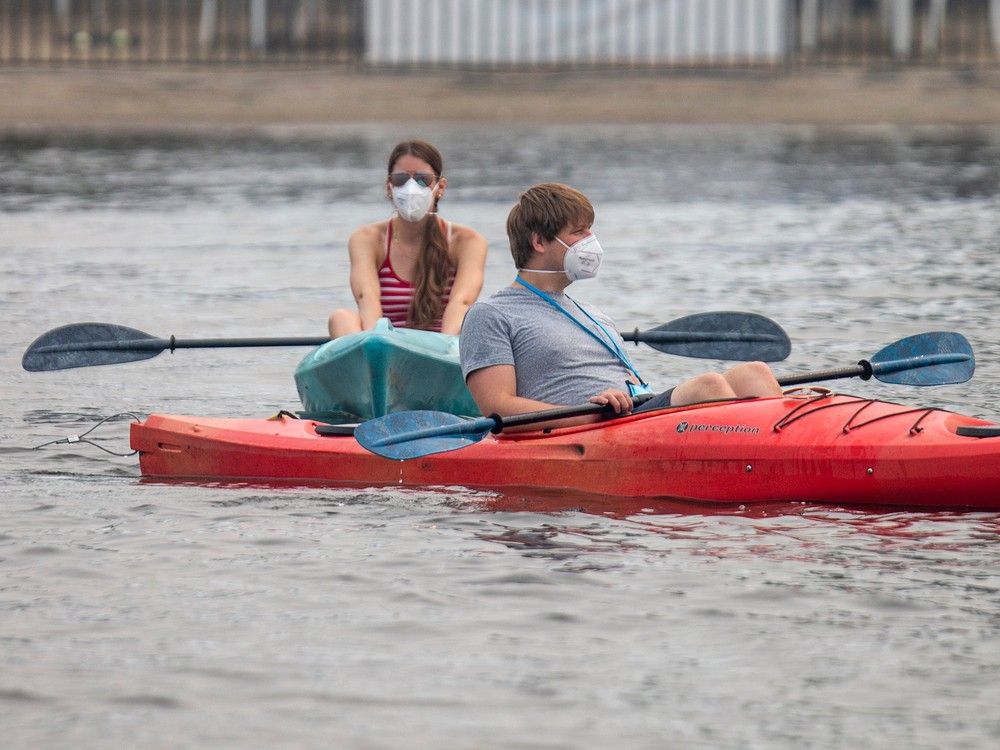 Article content
Environment Canada has issued a new weather statement cautioning capital residents that air conditions should worsen Sunday as wildfire smoke from Quebec again blankets the sky.
Article content
As of midmorning Sunday, the agency's air quality index was at 6, or high moderate risk but conditions are expected to worsen through the day to a level of 10+, or very high risk.
Meanwhile, Gatineau is under a smog warning as smoke from Quebec wildfires spreads.
The weather forecast for Sunday the city calls for widespread smoke throughout the day, as well as a 30 per cent chance of showers in the afternoon. Sunday's forecast high is 28 C with a humidex of 32.
Echoing notices issued earlier this month, Environment Canada and the Province of Ontario announced a "special air quality statement" for Ottawa, saying "high" levels of air pollution were expected to begin Saturday night.
Smoke plumes from forest fires in Quebec were expected to move into the national capital area by early Sunday, the advisory added, though conditions were expected to improve Monday.
Article content
More details are available on the Air Quality Health Index website.
Meanwhile, Environment Canada and the Quebec ministries of the environment and health and social services issued a smog warning for Gatineau, underlining that high concentrations of fine particulate matter would result in poor air quality beginning Saturday night. "These conditions may last until Monday," the notice said.
The advisories recommended several possible steps area residents could take to reduce their exposure to wildfire smoke.
• People with lung or heart disease, older adults, children, pregnant people and people working outdoors who are at higher risk of experiencing health effects caused by wildfire smoke should speak with their health-care providers about developing a management plan for wildfire smoke events and maintaining a supply of necessary medications.
Article content
• Stop or reduce your activity level if breathing becomes uncomfortable or you or someone in your care feel unwell; contact a health-care provider or local health authority if severe symptoms develop.
• Check the Air Quality Health Index and monitor your symptoms. Mild irritation and discomfort are common and usually disappear when the smoke clears. Drinking lots of water can help.
• If you have an HVAC system in your home, use the highest rated MERV filter for your system — ideally 13 or higher — and set the fan to recirculate air constantly. You can also use a portable High Efficiency Particulate Air (HEPA) air cleaner. Keep doors and windows closed if the temperature in your home is comfortable.
• Take a break from the smoke at a location in your community where you can find clean, cool air.
Article content
• If you must spend time outdoors, a well-fitted respirator type mask, such as a NIOSH-certified N95 or equivalent respirator, that does not allow air to pass through small openings between the mask and face, can help reduce exposure to the fine particles in smoke. However, respirators do not reduce exposure to the gases in wildfire smoke. Reduce or stop activities if you are experiencing symptoms.
• Check on people in your care and those around you who may be more susceptible to smoke.
• Reduce sources of indoor air pollution. If you can, avoid smoking or vaping indoors, burning incense and candles, frying foods, using wood stoves and vacuuming. Dust on indoor surfaces can be removed by wiping and wet mopping.
• If you experience any feelings of stress, anxiety or depression, contact your mental health care provider for advice or visit the Wellness Together website.
Roller skating glides back to Ottawa on a wave of nostalgia and also bids for new fans

Festivals break out across the capital