Canucks: What's the best career development path for Arturs Silovs?
7 min read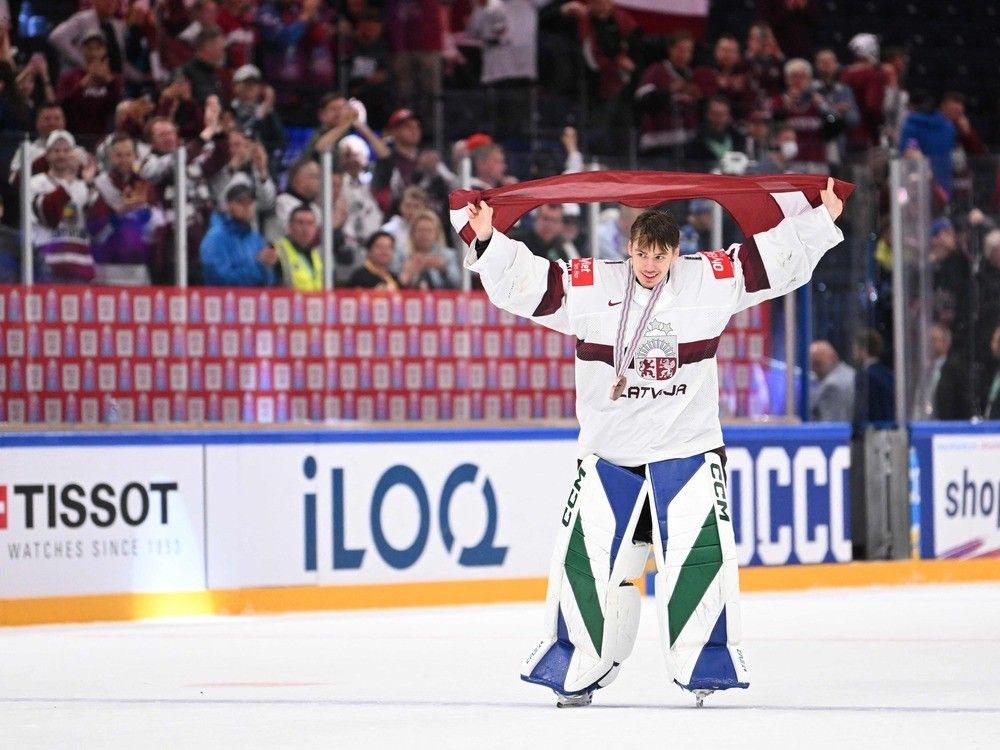 Keep him in AHL? Promote him to NHL? Canucks prospect backstops Latvia to World Hockey Championship bronze
Article content
Efficient. Effective. Exuberant. Endearing.
Article content
Scripting the swift and stunning success of intriguing Arturs Silovs already includes a number of adjectives to aptly assess what the Vancouver Canucks have in their prime NHL goaltending prospect. 
Article content
From being thrown to the wolves in his first NHL regular-season start Feb. 15, to backstopping the AHL affiliate in Abbotsford to the post-season, and then culminating in an amazing World Hockey Championship run Sunday with a shocking 4-3 overtime decision over the favoured U.S., questions beg about his playing future.
Abbotsford or Vancouver?
Silovs went 7-2-0 in the event, appeared in all 10 games and posted a sparkling 2.20 goals-against average and superb .921 saves percentage.
He was also named the event's most valuable player.
Article content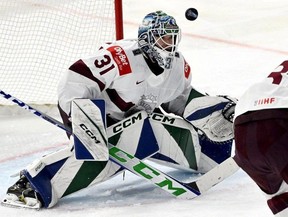 Kristians Rubins scored the late equalizer and then the winner at 1:22 of the extra session as Latvia claimed its first medal in the annual event.
"For the big teams like Canada, this is what they do," an ecstatic Miks Indrasis told reporters. "They win medals all the time. But for us, it's like a one-time opportunity. This is unreal."
Silovs was also unreal.
At 22, he already has the numbers, poise and production to make a case for a promotion to serve as the backup to Thatcher Demko next season. In his first full AHL season, Silovs was 26-12-5 with a 2.44 GAA, .909 percentage and four shutouts. He also had a 3-2-0 record with the Canucks which included 35 and 32-save outings.
If all that isn't enough, the position is trending younger.
Article content
Spencer Knight, 21, of the Florida Panthers logged 21 games in 2022-23, which is the equivalent workload of an NHL backup. There was also a trio of 22-year-old goalies — Lukas Dostal of the Anaheim Ducks, Akira Schmid of the New Jersey Devils and Mads Sogaard of the Ottawa Senators — who played 19, 18 and 19 games respectively this season.
However, the career track for Silovs seems more a matter of reasoning and reality.
Collin Delia, 28, is an unrestricted free agent, Spencer Martin, 27, has a year left on his deal and has had his NHL moments, and towering Belarus stopper Mikita Tolopilo, 23, of the Swedish Allvenskan second-tier loop was signed to an NHL entry-level deal in March.
Thatcher Demko logged 107 games over three seasons with Utica of the AHL before he started to share the cage here with Jacob Markstrom.
Article content
And when healthy, Demko is going to play a lot. His career-high 64 games in 2021-22 included NHL career highs for wins (33), goals-against average (2.72) and equalling a high for save percentage (. 915).
"There's no sense in having him (Silovs) here on a full-time basis if Thatcher is playing 80 per cent of the games," said former NHL goalie and broadcaster John Garrett. "The advantage of having the farm team in Abbotsford is you could let him play on a regular basis there and bring him in if there are any injuries and for some spot duty."
Garrett played in another era. There were two seasons in the minors and then six in the WHA before getting to the NHL at age 28. And being ready.
"It was the WHA experience," he recalled. "The good teams were as good as a lot in the NHL. And Harry Neale (coach) helped me the most in the WHL at Minnesota. He gave me confidence and played me a lot (58 games, 1974-75)."
Article content
Kelly Hrudey also played his minor-league dues before becoming a starter with the New York Islanders, Los Angeles Kings and San Jose Sharks.
"I think minor-league experience is invaluable," he said. "The trick is finding the right amount of games. I played 104 games in Indianapolis (CHL) and two playoffs where we won the championship.
"Arturs has played 67 in the minors and I don't think it would hurt to play one more, and if ready, then come up later in the season."
What separates Silovs from the prospects pack is his anticipation-over-angst persona.
He got a quick taste of NHL reality in his regular-season debut at Rogers Arena. He was beaten by a pair of New York Rangers snipers on the first two of four shots he faced, but wasn't fazed by the schooling in a 6-4 loss.
Article content
Mika Zibanejad raced down the wing, faked a wrister, and Silovs opened up the wickets to allow a five-hole goal. Artemi Panarin then followed by taking a cross-ice feed and whipping a shot home before Silovs could get from post to post.
That double-dilemma could have got to a lot of young stoppers, but it was a window on Silovs' world. The Latvian lapped up the experience.
"For sure, it's different skills and speed, but it was fun to play to get that experience," he said. "That's good for me.
"I wasn't really nervous, but excited to play. It was good to get into a rhythm and feeling the puck and the speed. It got much better."
OVERTIME — Canada claimed its second gold medal in three years Sunday at the world championship, and fourth-consecutive medal, by rallying with a strong third period to defeat upstart Germany 5-2. Samuel Blais scored twice while Lawson Crouse, Tyler Toffoli and Scott Laughton also scored for Canada.
Article content
[email protected]
twitter.com/benkuzma
Canada wins gold at men's world hockey championship

Canucks adding VIP section between team benches at Rogers Arena

Canucks: A draft pick deal with the Blackhawks isn't a ridiculous idea
---
Spring subscription sale: Our in-depth journalism is possible thanks to the support of our subscribers. For a limited time, you can get full online access to the Vancouver Sun and The Province, along with the National Post and 13 other Canadian news sites, for just $40 for one year or $1 a week for 52 weeks. Support our journalism by subscribing today: The Vancouver Sun.