Biotechnology and the Future of Fragrance
2 min read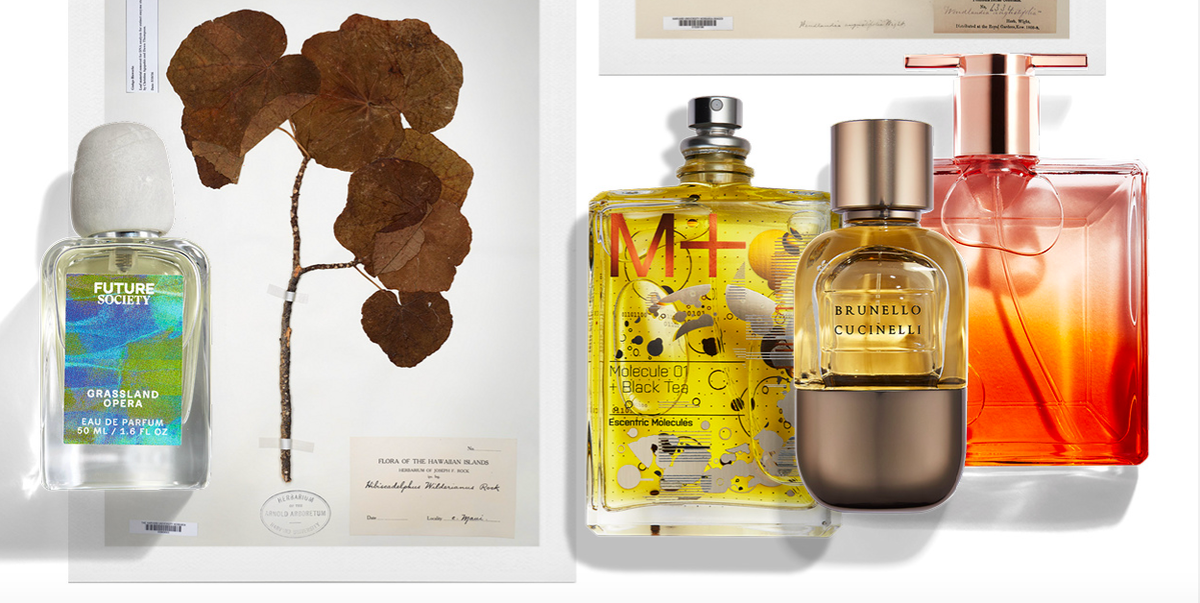 A group of scientists tinkers with extinct genetic code to bring to life a thrilling consumer experience. If that sounds vaguely like the plot of 1993's Jurassic Park, you're right, but it's also the concept of Future Society, a new beauty company that's about to change the way we think about perfumery.
The idea for Future Society was born after scientists, using preserved botanical specimens collected at Harvard University's Herbaria, sequenced the genetic codes of extinct flowers dating back to 1812. Using that data, the brand worked with perfumers from scent houses Givaudan and Robertet to source a mix of fragrance notes—synthetic, natural, and bioengineered—inspired by the scent molecules of the extinct flowers. The result: six juices that bring the smell of long-gone blooms back to life. "Our goal wasn't to solve problems within the fragrance industry or replace ingredients we already use with more sustainable ones," says Jasmina Aganovic, founder and CEO of Future Society. "Instead, we set out to make scents we've never smelled before and fragrances that were previously not possible to make."
To create fragrance accords out of thin air, Aganovic and her team tapped into biotechnology. "The beauty industry has been embracing biotech for years now, with ingredients like hyaluronic acid that are already being derived using biotech processes," she explains. "But as the production cost has come down, it's enabled a lot of other possibilities." While the use of biotechnology in fragrance has had a slow burn, with scent houses like Givaudan and DSM-Firmenich incorporating lab-grown ingredients into fragrances little by little, the trend is expected to skyrocket soon.
There is no protocol for fabricating a scent that has yet to be smelled, so Aganovic says some of the perfumers used their imagination to travel back in time to the years when a flower existed. "They imagined everything about the flower, from what plants grew around it to what the area might have smelled like on a really hot day," she adds.
Perfumer Olivia Jan, who works with Givaudan, was transported back to North America's rural Midwest in the mid-19th century when creating her fresh fragrance Grassland Opera. "The Orbexilum stipulatum flower grew near a waterfall, so I tried to make something wet, green, and lush," Jan says, explaining that the project required working backward from her typical approach. "Instead of beginning with a scent idea and finding ingredients to supplement it, I used the extinct-flower accord as the starting point—like making a recipe from whatever ingredients you have in your fridge." Although the process is different, the goal for Jan is the same: "I care more about how something smells than how it was made," she says.
Future Society's biotech approach is unprecedented, but major fragrance companies like DSM-Firmenich are using the science to spare expensive and rare raw materials. "Consumers are more conscious and concerned about the impact of what they buy and how products are produced," says François-Raphaël Balestra, perfumer and director of new-ingredients discovery at DSM-Firmenich. One of the house's ingredients is Dreamwood, a lab-grown iteration of sandalwood that has made its way into popular scents like Jean Paul Gaultier Scandal Le Parfum and Rabanne Fame. "Olfactorily speaking, Dreamwood is very close to natural sandalwood oil," he says. "It is less smoky and thus more creamy, but it has the same long-lasting effect as sandalwood and is of course more sustainable." Another one of the fragrance houses adopting biotech ingredients is Givaudan, whose sugarcane- derived Ambrofix is a main ingredient in Diptyque Tempo, as well as a base note of Grassland Opera.
While brands are naturally moving toward more sustainable practices, this new pivot was in part due to the International Fragrance Association (IFRA) Standards, which set limits for the amount of an ingredient that perfumers can safely use. Take bergamot oil, for example, which was controversial in the '80s because it caused dark spots when applied on the skin and exposed to the sun. These standards are revised yearly, which means perfumers juggle updating formulas while keeping the magic of the scent intact. Now, biotech processes can solve these issues and save a handful of classic perfumes—and raw materials—from extinction. "The bergamot of today goes through molecular distillation, so you pull out the molecules that are responsible for the photosensitivity," says Guerlain master perfumer Thierry Wasser. "You are left with a fragrance, like Guerlain's Shalimar, that both abides by the IFRA guidelines and keeps the integrity of the bergamot scent."
Still, there are limitations to what perfume notes can be approximated through biotech. For example, jasmine, a popular ingredient, has about 1,600 chemical compounds, Aganovic says. "It's difficult—not to mention a big undertaking—to engineer, but it's not impossible and will just take us time to get there," she explains. "Biotech notes are about not only recreating what we already have but creatively thinking about the new scent possibilities."
Other Fragrances With Bioengineered Notes