Avery Ellis's career comes full-circle with Alouettes
6 min read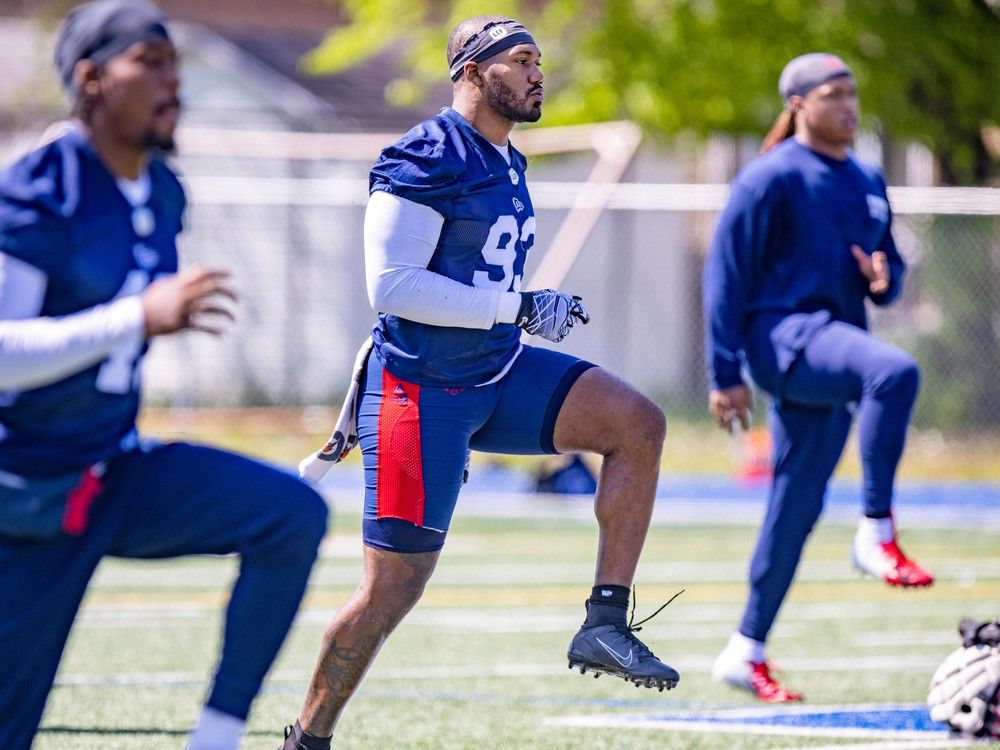 Traded to Edmonton and then released by that team, Ellis is grateful to still be playing football.
Article content
TROIS-RIVIÈRES — Entering his sixth CFL season, Avery Ellis can finally say his career has come full-circle — at least the Alouettes portion of it.
Article content
The defensive end, arguably, was Montreal's prized free-agent acquisition in February 2022, when he left Ottawa to sign with the Als.
Article content
The 6-foot-2, 250-pounder played nine games for his new team before being traded in August to Edmonton for defensive-lineman Thomas Costigan — no longer with the team — and cornerback Nafees Lyon.
While Ellis produced 16 tackles, three quarterback sacks and one forced fumble in seven games playing for a bad Elks team, he was released one week before the start of training camp. Edmonton wanted Ellis to take a significant pay cut and the two sides couldn't come to terms.
On Sunday, however, the Als repatriated the 28-year-old native of Newark, N.J. While Ellis wouldn't disclose the amount of salary reduction sought by Edmonton, it's believed he'll make a base of $100,000 with Montreal.
Article content
Als general manager Danny Maciocia said Ellis will provide the team with production and depth, adding he was surprised the veteran was available. In nine games with Montreal, Ellis had 18 tackles and four sacks.
Ellis said he was surprised by the turn of events in Edmonton, although management had been seeking to lower his salary for several months. Ellis and his Florida-based agent, Kenny Kim, quashed the offer and decided to roll the dice, believing another team would be interested.
"At the end of the day, I was in a tough position and I'm grateful, at this point, to still play football," Ellis said Monday, after the Als conducted a 2.5-hour training camp workout at Stade Diablos. "There's always some concern in the back of your head."
Article content
Ellis admitted some surprise over last season's trade, but has been around long enough to know what transpires on the field and in a team's administration offices frequently are two separate entities. Sometimes there can be little, if any, correlation.
"I can only control the things that happen on the field," he said. "Whatever happens in the back office, there's always reasons for things. You're always surprised when something like that happens but, at the end of the day, it's a business. Whatever happens after that is out of your control."
Ellis's return reunites him with Als defensive co-ordinator Noel Thorpe, who replaced the fired Barron Miles six games into last season. Thorpe and Ellis also worked together for two seasons in Ottawa.
Article content
"He's a guy that has been productive," Thorpe said. "He's a great character guy in the locker room. That was an easy fit for us and there was a need there to bring him back. He has a role here.
"Avery is a tremendous player with great character. He plays fast. Those are the guys we're looking for — that play fast and physical and can get to the ball. He has the ability to get to the quarterback. We're two weeks into camp but he doesn't miss a beat. This is the third time we've been together, so he has an understanding of the defensive system and knows the requirements. It was a natural to bring him back."
Ellis wasn't sitting around feeling sorry for himself the last two weeks. He has already started planning for his post-football career and was working as a private chef, preparing dinner parties at clients' homes and at supper clubs.
Article content
Meanwhile, the Als returned to the field for the first time since Friday's opening exhibition game at Ottawa, Montreal erasing a nine-point deficit in the final 2:36 for a 22-21 victory.
"In the CFL, you can never give up," head coach Jason Maas said Monday. "The final three minutes are when a lot of games are won. You have to have that mindset that you're going to win those games and pull them out, no matter what the score looks like. I don't think anyone was surprised (the comeback) was possible. To make it happen is another thing."
Fast and physical linebacker Williams comfortable with Alouettes

Maltos lifts Montreal Alouettes to 22-21 win over Redblacks

'I think the Alouettes struck gold,' free-agent addition Avery Ellis says